My wonderful Mother's Day gift this year was an iPhone and let me tell you, I had no idea what I was missing! The very best feature so far has been Face Time where I can actually chat with our long distance grandchildren, up close and personal, face to face!
I am a communicator, have been since I was a 6 month old with a growing vocabulary, or so my mama tells everyone. Sharing with others what is on my heart is important; listening to others talk thrills me! Right now I am reading, just for fun, Chuck Swindoll's book Saying It Well: Touching Others with Your Words and I frequently listen to World Champion of Public Speaking Craig Valentine. I am hooked on speech! To me, nothing is quite as inspiring as someone masterfully using words to convey a message! But, something has happened in this post-modern world of communication. It is no longer what we say or what we hear that transports a message or, in our Christian circles, an important truth. Rather, eliciting a feeling or an impression is now the goal. Let me explain.
For a while now I have tried to wrap my head around the popularity of certain bloggers, some of them celebrities, as well as leading conference speakers, also celebrities, who serve up regular entrees of "insight" but who don't actually say anything. Instead, the experience is meant to leave you feeling warm and fuzzy or moved or inspired. "Do you read so and so? He is sooo inspirational." "Do you listen to her? Why she always makes me feel blah, blah, blah."
A couple months ago Clay and I watched an ad for a parenting seminar coming to our area. In fact, we saw it more than once and were truly amazed. You would think that after nearly 37 years of being parents, something we were hearing would connect. But we seriously had no idea whatsoever what we were supposed to take home with us from that presentation. Nothing.
Fast forward a month or so to the promo we saw for a woman's conference. There were lots of praying and crying women and the keynote speaker kept talking about the Christian life in abstract terms. Once again, we were left with only an impression, the promise that we, too, could "feel" something if we attended said gathering. And both of these on top of having watched, in the past couple years, one clip after another of leading evangelicals with agendas that can't be actually spelled out with real words! It is as though the whole Christian world has become one giant emoticon.
Recently I read Jen Hatmaker's notes on a presentation she gave at a MOP's conference. I found myself nodding at much of what she was saying. I agree strongly that people are fleeing from the traditional church for the very reasons she has listed as she laments the departure of a younger generation. In fact I know many Christians my age and even older who have left church or who are leaving for many of those same things. They hate the lack of genuine community, the bizarre power trips, the emphasis on temporal things like buildings and programs and expensive conferences while examples of those living out a genuine faith within our culture are sorely lacking. Evangelism is nonexistent.
However, ministering in the abstract and nebulous is not the solution. Just because an entire generation uses "feeling" as the standard for measuring truth does not mean we should play this game. By refusing to be specific and purposeful in our speech, we send a message that we do not believe in absolutes. Perhaps that is the intent.
I am so concerned about what I am seeing and hearing that is passed off as solid communication in evangelicalism that I intend to pull this topic apart and examine it in several posts. In the meantime, in case you missed it the first time, Lady Thatcher: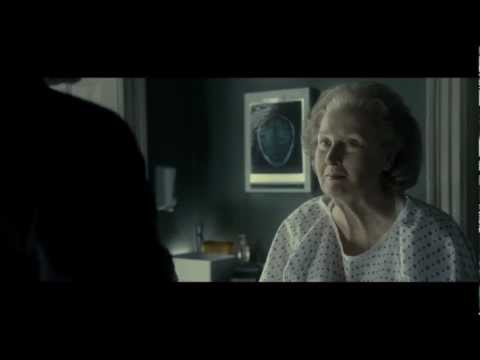 9 Responses to gobbledygook evangelicalism