Monthly Archives:
February 2011
This plea to the homeschooling families in Illinois was sent to me and I am sharing it with you with her permission. Terri is a long time homeschooling mom and I believe she is speaking for the majority of homeschooling families in our state who do not want to be represented by those who have named themselves leaders and spokespersons for all homeschoolers. I heartily agree with her. We need to be sure our heads aren't in the sand!!!
Dear Karen:
The Pink Elephant
I have been doing a lot of thinking since Thursday, and I may get rode out of town on a rail here, but I think the pink elephant in the room needs to be addressed. I am very, very concerned about those who are claiming to have a seat at the table with Senator Maloney, to be speaking on the behalf of all home schooling families in this state. Listening to that 2 hour interview Thursday* only confirmed my fears. I will admit, I am uncomfortable with IFI, ICHE, HSLDA, or even HOUSE representing my interest in any talks or negotiations in the scope of home schooling. David Smith proved Thursday that home schooling rights of parents is not IFI's main focus. I feel that those rights will be lost in IFI's agenda at that table.
Mr. Smith was given a perfect opportunity Thursday to take a firm stand against the registration/regulation of all home school students; to speak about SB 136 and what it meant for all home school students; to educate people on how these tactics have been implemented in other states and the effect that it had on homeschoolers in those other states. He chose not to do this. Instead, he and Laurie Higgins chose to spend a whole hour addressing IFI's stand against homosexuality and liberal propaganda in the public school system. Quite frankly, it left me yelling at my computer "WHAT DOES THIS HAVE TO DO WITH REGISTERING/REGULATING HOMESCHOOLERS IN THE STATE OF ILLINOIS?!" Was he there to speak about the threat hanging over the head of every homeschooling family in Illinois or to further IFI's agenda?
This led me to do some digging and I am frightened by what I found:
IFI is on a national list of hate groups? Of course I understand who drew up that list and I support IFI's right to speak out for or against any issue they choose to, but the fact of the matter is that this is an "honor" which our opponents can throw out in front of the liberal media to bury us with. The last thing that we need is to be further labeled as a bunch of hateful, religious zealots who are "sheltering our children" (David Smith said something similar to this in that interview, btw) from the real world. They seemed unable to stay on track and focus on the rights of homeschooling throughout that interview. The fact that David Smith has bragged about knowing Senator Maloney personally (they shared office space before David started with IFI) and is working in secret with Maloney doesn't instill a lot of my trust in him. IFI is heavily involved in a number of hot-button social issues. (I happen to agree with most of those stances.) To their followers, this is fine, but to others who do not share their beliefs, like a number of Democrat Legislators, it is not. Will they take the time to focus only on the home school issue? The fact that they could not give an interview on the subject of homeschooling without sidetracking the conversation for an entire hour to their anti-gay agenda instills very little of my confidence in this group's ability to represent all home schooling families.
HSLDA is another concern. I have my own opinions on HSLDA from my personal experience with them. When you visit the HSLDA website, you can clearly see their own religious agenda. Google them and you will find their anti-gay stances. They also seem to be much more comfortable representing families that use a set curriculum, preferably one that they approve of. Where does that leave the unschoolers and the more eclectic and free spirited members of our community? I am all for HSLDA coming in and representing their clients in individual cases, even a group of their members in a case, but to come into a state and present themselves as "the" authority to speak on behalf of all homeschooling families is a bit much. They have a history of doing this on a national level as well. They completely refused to listen to anything that anyone outside of their closed circle has to say. I was fighting with them tooth and nail the entire two weeks leading up to the hearing. Despite the fact that I sent them emails from State Senators urging us to contact every member on the Education Committee, regardless of where you live, HSLDA maintained their position that only those who lived in their district should contact them. Furthermore, they discouraged people outside of Maloney's district to contact him and from contacting their own State Senators if they were not on that committee. I can only say thankfully a large number of people either didn't get the message or chose to ignore it! Did Scott Woodruff deliver a good testimony during that hearing? From all that I have heard, I think it was adequate. The thing that truly concerns me is the fact that they are still telling their members that this is over, we won, it is time celebrate. They, along with IFI, ICHE, and HOUSE are intentionally discouraging people from remaining active in this fight. Why are they doing this? While I was digging on the internet, I found a couple of interesting articles with HSLDA as the subject. One that I found similar to our situation is this one: http://reliableanswers.com/hs/law/honda_hslda.asp.
This well written and thought-out blog entry about HSLDA's involvement with the HoNDA legislation definitely made me stop and think: http://homeschoolcommunity.blogspot.com/.
According to this, they were brokering a deal to make themselves the main entity to issue "home school diplomas", diplomas that would be required for anyone who was home schooled entering the military. Some of the other things that I read, tying HLSDA with the military, if true, were very troubling.
ICHE is another matter. While I don't agree with their religious doctrine or theology, I will support their right to practice any religion they choose to practice. Are they willing to say the same of others? Would they fight as hard for Catholic families as they do for their member churches? I get very uneasy when one group of Christians decides that another group of Christians is not Christian enough. Does anyone have any idea of just how many members this group has? I can only find 700 or so on their Facebook page. Even at 3,000 students, that is still only around 5% of the estimated home schooled students in this state. Very presumptuous of them to go and negotiate with Maloney on behalf of every home schooling family in the state, the majority of which do not follow their religious doctrine. Their idea of "true home schooling" scares me. I know that my family and I certainly do not qualify as "Christian" or "Godly" under their interpretation of the Scripture. I think I would be less afraid to stand before Christ Himself and answer for the way I live my life, rather than to have to stand before one of their board of elders. That is the true beauty of the freedom in living under the blood of Christ rather than under the laws of man. Sorry, I digress.
HOUSE was the one group that I had no knowledge of until the hearing. I have been home schooling for 12 years and this was the first that I had ever heard of them. I will say that a comment made by Dorothy Werner concerns me; she thinks that the truancy laws need to be more stringent. More stringent for whom? Also they state on their website that daytime curfews are "there to protect us, not to threaten us." What? They go on to advise that children carry a home school I.D. card and cell phone in case they are stopped and questioned by the police. Well, why don't we just sew big red "H"s on our children's jackets to avoid having them stopped and questioned at all?! I just recently fought down a daytime curfew in our county seat. This was a bad law and it was meant to protect no one; only to give more power and authority to the ROE and local police. There was no exemption for home schooled students. None. So carrying an I.D. would have done little good in keeping my children from being charged with a petty offense and fined up to $100 for being in public, even on the roadways, during school hours. Even with an exemption, once these new daytime curfews and new truancy laws are put into place, our children can be stopped and question, often being presumed guilty until proven innocent. This is one very important issue that I vehemently disagree with HOUSE on.
IFI, ICHE and HLSDA seem to be working in unison to monopolize this whole process. As my papa used to say, "They are like a bucket of snakes. You reach in to pull one out and they are so inter-twined that it is hard to tell where one begins and the other ends." All three of these groups have a highly religious agenda and that deeply concerns me. What concerns me even more about these three groups is that they seem to require a blind loyalty from their members, without question.
Most homeschoolers are independent and the range of reasons that they choose to home school is endless. The majority of people do not choose to home school for religious reasons, and yet here we have 3 very religious organizations pushing their way to the table to negotiate with the enemy. And yes, I do consider Senator Maloney and his like the enemy. They are hoping to turn him into the homeschooler's biggest ally in Springfield? That shows a political naiveté that should exclude them from even being at the negotiation table. What is the purpose of these meetings anyway? There is NOTHING to negotiate. What are they hoping to get out of these meetings? Maybe something along the lines of what Julie Kleinke Durr has proposed; to set up a governing board, a non-education board as other states have, to oversee regulations imposed on homeschoolers by the State of Illinois, with them having guaranteed seats of authority on the board? Remember, they have already appointed themselvs the leaders of homeschooling in Illinois. One of the Senators at the hearing assumed that HSLDA knew where all the homeschoolers in Illinois were. Of course, when you set yourself up as the representative for an entire community, I can understand how she could have easily made that assumption. Really, is this what we are fighting for? To answer to some other authority on how we are allowed to educate our children? To report to them? To have them approve which curriculum can be used? Or maybe to decide what qualifies a parent to educate their own children? Is a board made up of IFI, HSLDA, ICHE and HOUSE members a better alternative to answering to the State Board of Education or the ROE? I am sure to their 2000-3000 members it would be. Why would they mind, they are already under their authority. However, I don't think that the other 12,000 to 20,000 homeschooling families would think it any different than answering to the government. I am willing to wager that most who do not share these groups' theology would rather be put under the authority of the government if given a choice.
I will sum this all up. What is the true agenda of IFI, HSLDA, and ICHE? Is it to fight registration/regulation/restrictions on homeschoolers in this state or to furthering their own agendas? I think it is a fair question, especially after hearing that interview, receiving their emails (all three sending out basically the same exact email to counter the Illinois Homeschool PAC and its efforts and then to encourage each of their members to join the two sister groups), and seeing how they manipulated the circumstances to put only themselves and their spokespeople on the front row at the education hearing. I have to ask again, what is there to negotiate with Maloney about? I would like to ask those at IFI if any of them are okay with testing home schooling students. I would like to ask the folks at HOUSE if any of them are okay with imposing daytime curfew on all Illinois homeschoolers to help the public schools reign in their dropouts and truants. Should our home schooling students have their freedoms limited because Regional Superintendents and Truant Officers are incapable of doing the job they are being paid to do? I would like to ask the attorneys at HSLDA if they will protect the rights of those parents who choose to unschool their children and also would they waive their fees for members in Illinois for 2 years after any deal they broker goes into effect? I would like to ask those in authority at ICHE if they can leave their religious beliefs out of the meetings. Will they be able to respect an atheist's right to home school? How about a gay couple's? Remember, these are the people who put themselves in a place to negotiate for all of us.
Now back to the pink elephant I spoke of before. Who exactly decided that these handful of organizations where the homeschooling "leaders" or "experts" and had the right to speak on everyone's behalf? And even though these organizations are highly respected by their members, will they be able to represent all the homeschooling families equally; without prejudice and without judging and forsaking those who do not share their religious beliefs? Will they admit that they are the minority in the homeschooling community in this state? Will they only focus on the home school issue and be willing to leave their groups' agendas at the door? Will they agree to be transparent, open and honest with everyone who could be affected by their actions, not just their groups' members? Will they publically announce who will be representing them in these meetings with Maloney and give the public their bios so that all parties can let it be known whether or not these organizations are representing them? Will they let the public know when and where these meetings will be held? Out of respect for every homeschooling parent throughout this state, I hope that they will do all the above.
Thank you,
Terri Koyne
Macoupin County, Illinois
*1330 WNTA radio interview on Thursday, February 24th with David Smith from Illinois Family Institute.
IFI = Illinois Family Institute
ICHE = Illinois Christian Home Educators
HSLDA = Homeschool Legal Defense Association
HOUSE = Home Oriented Unique Schooling Experience
Please join me this week as I begin my series of podcasts called The Blessing of Raising Sons! My featured guest is Shelly Roberts who is the homeschooling mama of 3 boys and 2 girls. The two of us got together one Saturday morning at my house and while we enjoyed coffee, pastries, and great conversation, the tape was rolling! I look forward to your thoughts and insights, too, so please join our conversation in the comment section and Shelly will be on hand to answer any questions you have for her!
February 27, 2011
Raising Boys – Part 1
Interview with Shelly Roberts.

Audio clip: Adobe Flash Player (version 9 or above) is required to play this audio clip. Download the latest version here. You also need to have JavaScript enabled in your browser.

Click player arrow above to play this podcast



Two amazing homeschooling moms, Nancy and Rose!
It is time for true confessions: I have a teaching certificate from the State of Illinois. I graduated from college in 1974 with a degree in something the college called Human Relations, a combination of psychology, sociology, and anthropology. In another life I might have been an archeologist, a similar line of work to my more recent profession of trying to find someone's clean baseball uniform in a 4 ft. tall pile of laundry that was hiding our bed.
When we began homeschooling our children, I had every confidence that I was well-trained and qualified for the task. In fact, I was frequently told, "Of course you can teach your own children, you have a teaching certificate." I owned Willy Wonka's Golden Ticket. I willingly embraced this notion because, during those days, the only people I personally knew who did such a thing were missionaries in the outback of Africa and hippies who were making sand candles somewhere off the grid. But here is another true confession: rather than help me be a better homeschooling mom, I discovered how the course work I did to receive that certificate actually delayed my ability to become a successful homeschooling mom.
In researching the current requirements for obtaining teacher certification in Illinois, a lot of memories came flooding back to me…endless months of writing goals and objectives for various subjects, reading and analyzing the philosophies of noted educators, social science research methods for gathering pertinent data related to testing, weeks of classroom observation and months of actual student teaching. I had to smile because, while I spent the first few years of homeschooling pouring over teacher's manuals and handing out boring assignments, my own children were the ones who finally taught me what learning is supposed to look like! When they were inspired by something they had read or seen, there was no holding them back. I became a more proficient instructor the more I facilitated and the less I got out of the way! As I began to really consider and understand the vocabulary of institutional education and what it meant in my life, I quickly realized that there wasn't a single thing I had learned in all those years of education courses that had prepared me for being a successful homeschooling mom!
The truth is that institutional education places requirements on teachers to keep their college professors employed filling impressionable young minds with their latest ideas to experiment on the minds of innocent children and their unwitting parents. One young homeschooling grad I know who was taking college classes toward the goal of receiving a teaching certificate concurred: these institutions are more interested in preparing teachers to conduct further experiments on kids than to actually instill in them a love of learning and the ability to self-educate. They take simple, down-to-earth and proven methods of teaching and complicate everything, making sure these profs keep their prestigious jobs!
Here is just one example of this. About 15 or so years ago, I met a woman who longed to homeschool her two first graders but her husband was adamantly opposed to the idea. Nothing she could do would persuade him to at least let her try, so she ordered an Alpha-Phonics workbook and began teaching her children to read in the afternoons when they came home from school. In a few short weeks, her children were whizzing through early reading books, leaving their classmates in the dust.
One afternoon she received a call from one of the 1st grade teachers, wanting her to come in for a conference. When she arrived, all the 1st grade teachers were present. Her children, it seems, had told these teachers that their mother had taught them to read at home and these State of Illinois certified teachers wanted to know if this mom would share her secrets. Not only did she tell them but she began coming into the school during the afternoons and working with all the children, teaching them phonics. These "qualified" teachers expressed their frustration with the look-say method they had been taught in college was the best way to learn to read. They also told her how adamant their curriculum coordinator was that this was the material and method they would use. So they asked this mom to come in and teach them how to teach children to read!
Now that Senator Maloney has opened the "teaching qualifications" can of worms and many people are going fishing to find ways to make sure homeschooling moms are "qualified" to teach, according to some state standards and propped up by university professors with socialist agendas, we can only expect more and more people telling us how truly unqualified we are to teach our own kids! It's just one more unnecessary, irrelevant, and costly notion that proves mandatory registration to be a bad idea!
And now for those who still aren't convinced, I would like to share a testimony written by my dear friend Rose who is an amazing homeschooling mom and a true inspiration to all who know her. Please, please read her story in her own words:
In light of the new legislation trying to be passed in Illinois regarding regulating homeschoolers, I was asked to write out my testimony. As I thought about sitting and writing it all out, I became very insecure and even had a few panic attacks. Going through this process made it more clear to me how important it was share my story.
Living in such a fast-paced technological information age, it may seem absurd that people grow up illiterate. Both my parents are illiterate. My mother went through the eighth grade and then dropped out of school in order to work. Her reading is very minimal. My father dropped out in eighth grade as well and is unable to read or write. I myself made it to high school unable to read more than a few memorized words. When I look back, my first memory of reading was in second grade. My teacher gave me a choice: to go to the reading circle or to the play area. I chose to play. Unfortunately, that was the first moment I "fell through the cracks" of our educational system.
Growing up in the public school system, I was moved in and out of low reading classes. A few teachers noticed me and worked with me one-on-one in order to "pass" their class. I went through elementary, junior high, and high school by memorizing things and learning to compensate for my lack of reading.
When asked how I made it through high school unable to read, my mind wanders to two specific classes: ninth grade science and history. During science class, my teacher helped me by reading to me and allowing me to earn credit for memorizing things that other students did not. In history I was in what was called "helping teacher history," a lower academic class. I passed with flying colors. The tests were photo copied text book pages with words or phrases missing to create a fill-in-the-blank form. All tests were open book. All I had to do was match the sentences up and look for the missing words. Reading was not my only struggle. By tenth grade, I still did not know my multiplication tables. I "slipped through the cracks" time and time again.
In eleventh grade I attended a private school. I remember crying at my desk. All the things they expected me to already know I had never heard of. Being in lower classes and passing from grade to grade did not prepare me for anything or help me at all; I was no further ahead. When I realized that the school knew I could not read my heart sank. I thought to myself, "Here we go again." The family that I lived with at the time bought me a reading program that used music to learn phonics. The school worked with me during the summer using this program instead of their own books. After that summer I continued with the same program and taught myself. It was not easy, but I was determined. Having fewer distractions coupled with my memorization abilities, I quickly learned phonics and moved through the program confidently. This program catered to all of my learning styles and relieved my stress over the whole reading process. Unfortunately I did not complete high school, but my learning did not stop. I continued to teach myself to read, and I vowed that when I had children this would not be an issue; I was going to break the cycle.
After having my first child at age 18, the one thing I had going for me was that all the books for her were written at my reading level. So read we did. By the time she was four, she was reading and writing. Pride filled my heart knowing that I did what seemed to be the impossible: I taught my child to read. By the time she went to preschool she was well ahead of others. This would not be the first time that my heart would feel this same joy. My confidence soared. I have now taught all four of my children to read and write, three of them before pre-school. My oldest was reading at a post-high school level by fifth grade, while I was still reading at a fourth grade level. Despite some of my children doing so well in public school, I still had some concerns but felt inadequate to teach them at home. However, as I thought about it, I realized that I had been teaching them at home all along by training them how to tie their shoes, brush their teeth, read and count.
I began to notice that although my oldest was reading at a higher level, she was "slipping through the cracks" in other areas. Even at my request to hold her back to give her time to catch up, they were still advancing her. I knew she would be lost if I did nothing. I then made the decision to bring her home for one year working through the summer to fill in the gaps. I figured I could not mess anything up over the summer and could always send her back. When summer ended, I beamed with pride and joy realizing that I had gotten her through a complete course. I also noticed behavioral issues began to diminish; she was definitely more focused. Seeing great improvement in her, I decided to work throughout the rest of the summer with the other three as well, thus our homeschooling journey began.
My goal in homeschooling was to instill a love of learning. I am often asked how I can teach something I do not know. My answer is I do not teach it, we learn it. I have since learned so much along side of my children. When I learn something new, I am eager to tell my children and they see the thrill I gain from the new knowledge I have obtained. Subsequently, they are just as eager to tell me what they have learned. Because I taught my children to read, the whole world is their class room. When we do not know something, we can look it up or ask someone who knows. This has helped them in so many ways. They understand they do not have to know everything all at once and by seeking out their own answers rather than them being handed to them, they actually learn the material rather than go through the mere motions to meet someone else's standards. I honestly believe seeing my weakness showcased their strengths. I have learned over the past five years that I do not need a collage degree or even a high school diploma to educate my children. All I need is an eagerness to learn and a willingness to be transparent with them and allow them to teach me. Together we can learn and together we can and will succeed.

Ok, so maybe I can see the blog receiving such an honor! Thanks and shout out to fellow homeschooling mom, Susan, who bestowed upon me this honor! Her blog, Corn and Oil, is so much fun to read, especially if you carry in your heart the unfulfilled dream of being a farmer, like I do!
First, I am supposed to share 7 things about myself. Hey, I was an only child who grew up thinking the world was her audience. So only 7 will be tough!
1. My college roommate once talked me into playing half back on a women's flag football team. I was terrified when I looked at the opposing team with their 6'2," 300 pound women. I handed them the ball.
2. Once organized a pro-life picket at Judson College (now "University") to protest the school's unwillingness to take a pro-life stand and to ask for the resignation of then-Secretary of State Jim Edgar from the Board of Trustees. Can't tell you how fun it was to watch my awesome husband explaining the pro-life position to the college president and dean, men who should have known better!
3. I once received a first place trophy in a district Toastmasters Humorous Speech Contest with my story of the homeschooling mom who mummified a chicken. The Toastmaster from Egypt still makes a beeline for me every time I am at a district event, still laughing and howling about it!
4. I would never think of Illinois as a "fly over" state. There is nothing more beautiful than an early morning in June, looking out across the prairie grasses, on to perfect little rows of corn. You can take your mountains; in Illinois we have a big big sky! I LOVE living here.
5. My personal hero is Abigail Adams. She was the most wonderful homeschooling mom and if it hadn't been for her astute awareness of all that threatened American freedoms and her willingness to write daily letters to her husband with the facts as she witnessed them, perhaps we would all be taking tea and crumpets and bowing to a king! (no offense to my British friends…I have tea and crumpets, English muffins as we call them, nearly every morning with a cup of Lady Londonderry!)
6. Most children grow up with Grandmas who bake them cookies and read them stories. Mine did that but they also did other interesting things. One of them inspired me to love quilting and other types of hand sewing. The other one taught me to love the Bible and to love Jesus. She also showed me that learning could be fun. I know this because she kept a full sized Kodiak bear skin and a real Indian skeleton in a glass case on the wall in her den. I am not making this up.
7. One thing I really, really like to do is to re-purpose stuff, especially old lady stuff from the 1940′s and 50′s and junk I pull out of the trash. Some of it actually makes it into the "real treasure" status. The rest of it is waiting for posterity, meaning one day my grandkids will have to haul it back to the curb.
And now I am bestowing this same honor on the following blogs! You all inspire me! Please share 7 facts about yourself and hand out your "stylish blogger" awards!
A Tutorial on the Vocabulary of Institutional Education
A week after the hearing in Springfield to examine the possibility of requiring homeschooling families to register with their local regional school superintendents, there is still much confusion as to what actually happened and what it all means to the average homeschooling family.
I believe that William Reynolds, the truant officer who was called to testify, was God's gift to the homeschooling community that day; the few minutes he spoke revealed to all of us the true agenda of those supporting mandatory registration. It also gave us insight into how this sort of law would be applied. As we all know, the devil most certainly is in the details.
Over the next few days I am going to look at some of the applications such a law might require and I hope it will prompt some great thinking. As always, I am open to hearing any thoughts you might have.
Today I want to look at how mandatory registration, by necessity, would bring along a mandatory educational philosophy and would require us to use government approved "tools" to implement it.
Long impressed by his incredible rhetorical skills, I once read that Winston Churchill's speeches were so amazing because he wrote them down and, in a day when radio was the chosen medium, read them word for word to his audience, being certain to use specifically selected words to make his point. It is important for us to be this precise when we talk about education as homeschoolers because words we use may mean something entirely different to those who, as Mr. Reynolds pointed out, want to "help us" educate our children. I believe they would be used to intimidate us and pressure us to become little public schools in our own homes.
On the day of the senate hearing, there were four phrases I heard used repeatedly that gave me pause: curriculum, teacher qualifications, testing, and grade level. Let's look at institutional education's meaning of these words and how each could be a problem for homeschooling families. Note that this is just a brief overview and I would like to visit each one again in more detail in the future.
Curriculum
Historically, curriculum was considered to be the course of study that prepared a child to be an autonomous, independently functioning adult in his own right. It incorporated printed material, mentorship, and research personally chosen for individuals but also included life skills and a course of study that we might refer to as apprenticeship. Over time it has come to mean textbooks along with a prescribed list of courses that is the same for all people in a particular school system within each state.
Most school districts have curriculum consultants whose task it is to oversee committees that choose and implement the use of their personal choices. It is never agenda free; there is no such thing as a neutral course of study. A year ago there was some controversy over the curriculum chosen by my local school board when it came to light that Planned Parenthood founder Margaret Sanger was being portrayed positively in a film they had selected to be shown to high school history classes. As I listened to parents who were up in arms, I couldn't help but wonder if they had ever stopped to think about the rest of the content their children absorb day after day. Homeschooling families have complete control over this! In my house, for example, we would most definitely study Margaret Sanger but in the process, we would also read about her relationship to Adolph Hiltler, her plan to sterilize poor people, and her promotion of birth control and abortion.*
Curriculum content is also influenced by the educational philosophies of school administrators. As widely acknowledged, curriculum is a playground for social engineering. During the 1980's a retired couple from Texas who were concerned about what their grandchildren were learning, began the arduous task of evaluating all the history textbooks published by the major curriculum companies. To their horror, they found numerous errors and blatant lies on page after page. While I don't remember all of their stories, I do recall their surprise that in one book, Marilyn Monroe was given three pages and Martha Washington had not been mentioned a single time! Which of those names do you think is most easily recognizable by homeschooled children?
Curriculum defines teaching methods and doesn't recognize that not all children learn in the same way. Out of the necessity of teaching 30 or so students in one classroom, (or 60 as is now being proposed in some financially strapped school districts) curriculum has to be presented in ways that target groups rather than individuals. Homeschooling families, on the other hand, educate each single child, which brings me to another word I heard mentioned that day:
Testing
Teachers will tell you that a huge part of their time is spent teaching to the test, that is, the standardized tests that are required in their districts. The results of those tests are used to identify good teachers as well as good students. They are also used to determine how monies are distributed within various school districts. Since many homeschoolers are quite proud of their test scores, especially because they typically soar above the averages in public schools, they have offered those scores as proof of the great job we are doing. Senator Maloney is pressing for mandatory registration for homeschooling families and has intimated that he might make mandatory testing a requirement that goes along with registration.
Indeed, several people pointed out that this is required in other states so it should be no big deal. But to families who have children with learning disabilities or those who choose alternative methods of education where textbooks are not the mainstay of what they do, this could become a huge problem. Why should the public school testing standards be the standards for everyone?
We also have to keep in front of us the truth that the standardized test scores DO NOT measure what children know. They measure how one child is doing against what all other children who took that test know. And it always involves the concept of:
Grade Level
When we began teaching our children at home, I had my first experience with the notion of "grade level." I was handed a scope and sequence chart and told to plan to purchase materials for the corresponding grade and age level of each of my children. What an impossible task! Their reading scores showed them to be several grade levels ahead of what a textbook might call for while some were studying math at the same level as others their age. There were many other things that interested them that they had researched on their own that weren't covered in any of the material. This is why homeschoolers can often not answer the question "What grade are you in?" because there is seriously no answer.
It is important to remember, too, that curriculum reflects "spiral learning" which is, again, the only way to educate large numbers of people in a single classroom. This is how it works: Do you remember that it seemed like you continued to study the same old stuff year after boring year? That is because you did. A textbook will cover certain material and the teachers are aware that about 70 to 80% of the students in the class will absorb most of it. They also know that another 10% will already know most of that material the first day they walk into class and will be bored to death. The final 10% will not be able to understand or retain much of it even by the end of the year. But they don't worry about these things because they know that, like an upward spiral, the same material will be presented again the next year with a few more things added or with a more sophisticated approach and, hopefully, they will pick up the stragglers. Homeschoolers tend to follow interesting rabbit trails and study a variety of things, each one building upon the other, filling in the gaps when opportunities present themselves and as time goes on. They also will typically share in the interests of siblings who are studying subjects that interest them, thus learning new and fascinating things from each other.
During the past 10 years or so, I have become increasingly alarmed at the number of homeschooling families who have allowed curriculum companies with their institutional approach to education to shape their views and practices of homeschooling. The loveliness of learning at home has been replaced by the notion that homeschoolers must follow the same path as their public school counterparts. It is my hope that every single homeschooling mom will put down her red pencil for a moment, reevaluate what she is doing, and consider whether or not she has been driven by this system. For more insights into where to even begin to do this, please consider my thoughts on minimalist homeschooling.
I hope this has been helpful. If you want more information on these things along with some other insights into understanding the education "system" and how to survive it as a homeschooler, listen to this series of podcasts.
Next, I will be addressing the concept of "teacher qualifications" and have an amazing testimony to share with you from another homeschooling mom.
*You might want to check out these links for information about the Margaret Sanger school board controversy. It is very insightful!
We are thrilled that SB136 has been tabled. Now is the time to be ever vigilant and request that Senator Malone not introduce other legislation that would limit the freedoms of homeschooling families.

Please consider signing this request to Senator Malone and distribute to others. You do not have to be a homeschooler to ask that these freedoms be maintained
I purposefully chose an aspect of education that I thought most people wouldn't present but one that I think is valid. It was based on a long conversation I had with a weary school teacher a while back and she touched my heart as she shared.
Thank you so much for the opportunity to present my concerns to this committee on an issue that is very important to me.
I am Karen Campbell from Canton Illinois. We have been homeschooling for 27 years and have 6 children, 4 of them who are adults who are productive, working taxpayers. We also have 11, soon-to-be 12 grandchildren in various stages of homeschooling life. Today I would like to share with you why I think SB 136 is not necessary.
I personally know many teachers within the public school system in Illinois and they tell me that the problem in their schools is not lack of funding, it is not curriculum, it is not educational standards; it is the lack of parental involvement. They say the greatest factor in educational success is the time and energy parents contribute to family relationships and they lament the fact that they are expected to become nannies and mothers to the children who walk through their doors.
Those who work to prevent teen alcohol and drug use have come to the same conclusions, observing that young people who are mentored well by parents are far less apt to engage in risky behavior. In fact, statistics show that the single greatest way to prevent use of drugs in American homes, believe it or not, is for families to share an evening meal together around the table most nights of the week. Anyone who has spent time with homeschooling families knows that solid relationships are the warp and woof of our lifestyle. We are already doing what professionals say is necessary to raise responsible adults.
I would like to persuade this committee to examine your goals for educating children and to vigorously place your energy, money, and time into encouraging more and more moms and dads to meaningfully engage in the lives of their children. Homeschooling families have already committed to this task and are doing a terrific job. Our system is not broken.
A group of my speech students ready to hear the proceedings during the Senate Education Committee hearing on February 15th.
"Plenty of people miss their share of happiness, not because they never found it, but because they didn't stop to enjoy it."


I am feeling a bit like this writer as I watch the amazing videos and photos that were shared today from yesterday's historic day in Springfield. 4000 homeschoolers gathered outside our state capitol to express their opposition to proposed SB136 which would require registering all homeschooling families in Illinois. In the immediacy of the moment while trying to accurately share what I was hearing from the Senate floor via my Facebook page, somehow I had missed the loveliness of what I know to be our central value: families committed to each other and committed to homeschooling! Now seeing these precious families lining the hallways under that beautiful rotunda and hearing their sweet voices singing, laughing, and sharing the freedom we have as homechooolers, I am a little wistful that I wasn't outside!
I will be blogging about my personal thoughts about this in the days to come but wanted to first share my overall impression of the actual hearing and the possibilities I think it could offer to us along with some of my concerns.
There is some confusion today and it is being reported that Senator Maloney withdrew SB136. Actually, he had decided early on that he did not want to include private school students, as originally planned, and to place these restrictions only on homeschooling families. Yesterday's Senate Education Committee meeting was for the purpose of hearing testimony on both sides of the idea of mandatory registration of homeschooling families. There were several things that came out of this meeting that were disconcerting to me and give me pause as to the direction this might take:

Many of those who make laws that affect homeschoolers are fairly ignorant of the actual laws and court decisions involving the education of homeschoolers. One senator even stated that homeschoolers have no standards required by the state, ignoring the very ones outlined in the actual law. This was handily corrected by one of the attorneys present. Frankly, I was amazed at the lack of coherency in some who spoke. I had several of my speech students with me who were amazed that elected officials who run for office weren't better prepared, both in content and in presentation.
Bill Reynolds, a truant officer from southern Illinois testified that he believes all homeschoolers need to be registered so he can know where there are problems because he "wants to help" homeschoolers. Wasn't it Ronald Reagan who said "The nine most terrifying words in the English language are I'm from the government and I'm here to help?" When asked how that would be accomplished, Reynolds said only by registering all homeschoolers and having the authority to enter all homes. He went on to say that he would be able to recognize those who were doing a good job when he walked in the door by the fact that there were books around the house, etc. He was clear to differentiate between the "cream of the crop," ie those demonstrating yesterday, and those who "fall through the cracks." How much sense does that make? How does he know we are the "cream of the crop?" He hasn't been in our homes or talked to any of our children or looked at our books! The best part of his discussion was when one of the senators asked him "How do you expect us to write all that into law?"
Another school administrator told one anecdote of a child from his school district who was supposedly homeschooled but he had no way of knowing it was true because he couldn't find the family. He pushed for registration for this reason! He was quite emotional and concerned "for the children." He also suggested that there should be qualifications for parents who homeschool but all those in favor of registration agreed that that would really be difficult to do. After hearing his testimony it is clear to me that the real problem, if, in fact, it is a real problem, is NOT homeschoolers. It is impostors who use the word "homeschooler" for whatever reason. Why should there be restrictions on all families because someone is choosing to use our name? Perhaps this is a situation of identity theft. And how did he know the family missing from his system wasn't actually homeschooling if he couldn't find them? This was the "evidence" that caused Senator Maloney to call for this discussion.

One of the senators stated that she doesn't personally know any homeschoolers, which prompted an open invitation from the entire hearing room for her to get to know us! I believe many school administrators and legislators have no personal stories of their own that make a case for homeschooling because too many people have been fearful of taking the time to get to know those they perceive to be the enemy. We need to change this. I am not talking just about showing up with a cherry pie on legislative days where we stop in to meet a representative or working on someone's campaign. This can be difficult and in some situations might not be wise, but I think we could make a better effort to engage with those outside of our homeschooling circles. I know that our own family has been exceedingly blessed by becoming friends with a variety of people who share different life experiences and perspectives. Some of those people are now our greatest supporters and some have even offered to write letters and testify on our behalf if need be. We know how charming homeschoolers are. Let's share this knowledge!

I left with the distinct impression that there were three senators on the committee who supported our position. I know of several others who also oppose the registering of homeschoolers as well as quite a few members in the House. While some of the questions that came up during the hearing are disconcerting and will perhaps invite more people to want to look for bad stories to support their views, I keep remembering what it would take to actually get this placed into law! We need to pray for the legislation to be stopped before it goes any further and prepare to continue fighting if it is isn't!
As the meeting closed, Senator Maloney's final remarks came with some obvious emotion. Perhaps he was feeling the pressure of the 4000 homeschoolers in nearly every square inch of the capitol building and on the lawn. Maybe he was moved by the sweet presence of babies and delightful children of every age alongside moms and dads of conviction and courage. And then there's the fact that numbers make a great deal of difference to politicians who like to be re-elected. Maybe he was pondering the 2 hour discussion he had just heard where those testifying on his behalf betrayed an agenda of further control and bureaucracy, aware that the Illinois electorate has reached their limit of big government and taxation. Maybe thoughts were going through his head about how they would pay for these new regulations. (My elderly mom asked me if they would charge us for registration, like they do for license plates. Shhhh, don't give them any ideas!) For whatever reason this man was visibly moved, I would encourage us all to pray for him and for the other members of his committee, that the Lord who holds the heart of the king in his hand will move them to do the right thing.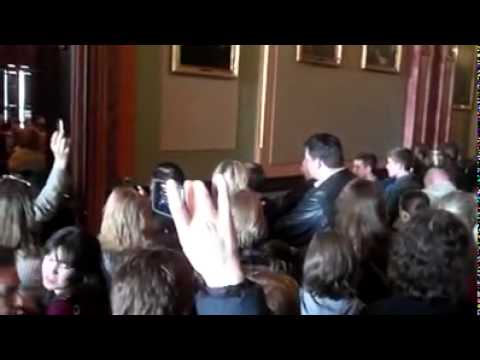 While Clay and Will were off to Monster Truck Jam over the weekend, Joe and I decided to take in a double feature and went to see The King's Speech and Tangled. I had already seen the first one and really wanted Joe to see it too, it was just so excellent. I had received so many e-mails encouraging me to see Tangled that I was delighted to finally have a chance before it left the theaters and am I glad that I did! To all of you who kept telling me it serves up the patriocentric message, Disney style, it certainly does!
A month ago I read a review of this movie that left me a little puzzled. Already knowing the basic story line, I wondered how anyone could ever find sympathy with a lying, conniving, self-serving kidnapper but after having watched the film, it made perfect sense to me if you swallow a patriocentric paradigm along with your popcorn.
Rapunzel, the heroine of Tangled, is one of the sweetest Disney girls to come along and reminded me so much of the lovely homeschooled young ladies I know, many of them who also enjoy all the domestic skills the young heroine perfected in her tower. The adventure story itself is quite charming, complete with quirky characters and loveable talking animals. The artwork is gorgeous; the scene with the lanterns across the dark blue night time sky is one of the most beautiful I can remember in an animated feature. And yet, the backdrop of all that loveliness is a sharp contrast to the grievous story of a young woman trapped in a loveless home, longing to enjoy the world she can only see from her window.. Only those who have never experienced or observed such similar behavior in some patriocentric homes could find this simply entertaining. Some of it hit just too close to home for me.
From the beginning when we learn that the wicked Mother Gothel has stolen away the princess and used her for her own selfish purposes, there is something eerily familiar about her character and the story. She tells Rapunzel that the world is an evil place, that she is foolish to be interested in going out into it, that she should be content with her stay-at-home daughter life. Mother Gothel reminds the girl that she is her mother, after all, and she knows what is best for Rapunzel because she loves her so much. The message is one of fear, manipulation, and control, one we have witnessed many times in the writings of those who embrace this paradigm.
As opportunity presents itself and the princess leaves the tower in her quest to understand the mysterious lanterns that are sent into the sky each year on her birthday, Rapunzel struggles between the conflicting waves of guilt over leaving and disappointing the women she believes is her mother and her desire to understand herself and the world around her. The fluctuating emotions are exactly what I have heard from adult daughters who have left patriocentric households and who struggle with the fruits of emotional and spiritual abuse. They so long to please mothers they deeply love and yet long to become women in their own right.
I know I have spent much time discussing and researching the patriocentric movement on this blog and have used the word to describe the father-centered nature of the paradigm and I would still maintain that, though there is no over-bearing father holding Rapunzel captive in a remote tower, the story applies. But the fact is that I have long believed patriocentricity to be a woman-driven paradigm, one where mothers and wives are pushing the agenda and paralyzing their families with fear. My e-mails confirm this. By far the majority of letters I receive are from mothers who are grieving over having followed the siren song of Doug Phillips et al and they want to repent before it is too late. In nearly every situation, their husbands rejected these nutty teachings a long time ago and it is their wives who are the true patriocentrists! Indeed, the most vocal supporters of this movement are the hundreds of women bloggers who are Vision Forum affiliates. Where are all the men who do likewise?
As the story resolves itself and Rapunzel is restored to her own mother and father, the king and queen, and to her own position in the kingdom, one of ministering to and serving others, I couldn't help but be reminded of 1 Peter 2:9: "But you are a chosen race, a royal priesthood, a holy nation, a people for his own possession, that you may proclaim the excellencies of him who called you out of darkness into his marvelous light." Isn't that the true home where all young women, where all of us truly belong?
A royal priesthood, God's own possession, now that's something to let your hair down about!
*One note for clarification: Let me just say that I am not a huge fan of the Disney princesses simply because their story lines always include the message that a handsome prince is necessary for ultimate joy and lifelong happiness. That, itself, is a very patriocentric notion, making these girls "normative." Who knew Walt was so "biblical?" Also explains why I am still waiting for someone to create Gladys Alward or Amy Carmichael action figures!

Two weeks ago, we observed Sanctity of Human Life Sunday, a special day each year that has been set aside for Christians to consider the evil of abortion, the pain of post-abortive women, the joy of adoption, and the preciousness of human life.
Central to the theme of the day is Psalm 139 which says, in part, "For You formed my inward parts; You covered me in my mother's womb. I will praise You, for I am fearfully and wonderfully made." This is a powerful reminder that human life is sacred because God himself miraculously created it and even more significant is the knowledge that we, each one of us, are image bearers of the living God who is the Creator and Sustainer and Savior of the universe.
It is good for us to set aside one day each year to pause and remember the infinite value of a human soul and to examine our own hearts and how we will stand against the abuse and murder of little children.
Today I am calling us to do so again. Today is the one year anniversary of the death of Lydia Schatz.

On February 6, 2010, homeschooled seven year old Lydia Schatz died of blunt force trauma at the hands of her parents, Kevin and Elizabeth Schatz. The pathologist reported "multiple whip-like striations between the child's lower back and knees" and the autopsy showed that rhabdomyolysis, the rapid breakdown of muscle tissue, caused damage to the kidneys and other organs and, ultimately, death was the result. Prosecutors say the girl's parents repeatedly hit her with a plastic pipe as a form of punishment, in this case, for misspelling a word in her lessons that day.
Devotees of Michael Pearl's teachings on raising children, the Schatz children have testified that their parents kept lengths of plumbing supply line in various rooms of the house, as suggested in the Pearls' book To Train Up A Child. Reading through the Pearls' description of how and where to inflict physical pain on children alongside the accounts of Lydia's death left a chill down my spine I shall never forget.
Kevin and Elizabeth Schatz have been charged with murder, torture, and cruelty to a child by inflicting injury and their trial will begin later this month. Please join me today in praying for God's justice and mercy in this matter and let's not forget the other children whose parents are following the abusive teachings of Michael Pearl. Let's remember Lydia today and pray that her death will continue to serve as a wake-up call to those families who continue to defend and practice these methods of "discipline."
For more information and links to other thoughts on this subject, Tulip Girl and Parenting Freedom are both great resources. For more information on this website, type Lydia Schatz into the search on the home page.